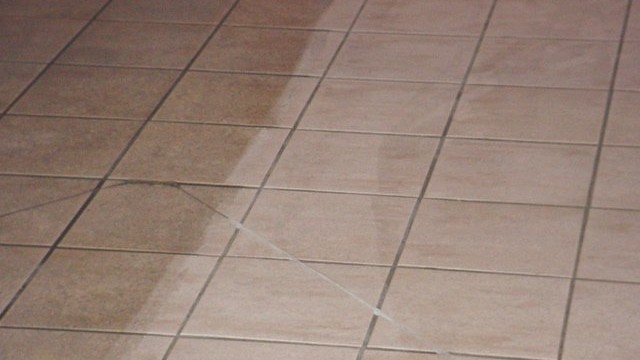 Tile floors show up in various parts of your building, including your entryway, break room, locker room, restroom, or commercial kitchen, and collect dust, debris, and dirt from frequent use. Wear and tear can quickly turn a shining surface into a scum-caked surface, one that fails to make the desired impression on visitors and current or potential clients.
Because tiles most often have a glazed texture that prevents moisture from absorbing, a little elbow grease goes a long way. However, grout, which is rough and porous, can build up dirt over time and begin to hold residue as sealants wear down. Embedded grime may be difficult to remove and develop into a dark, mildewed surface. If your tiles look dingy, dark, or worse, you probably want to consider a professional grout cleaning.
---
How We Clean Grout
Our team is experienced in cleaning grout and committed to making your surfaces shine once again. We use a specialized tool to spray a combination of water and cleaning solution into the pores of your grout, suctioning the solution back out along with the residue. This 100% safe process pressure washes these tiny spaces in your grout, producing an overall shine that's hard to beat.
How Often Should I Have My Grout Cleaned?
For high-traffic areas, frequent cleaning is essential. To determine your grout-cleaning needs, consider where people who walk through your tiled area are coming from. Did they arrive from outside or from an industrial area? Did they walk in from a carpeted office? Any dirt they track in will imbed in your grout, so take time to consider. Another factor contributing to frequency of cleaning is the function of the room. Kitchens and restrooms often grow bacteria due to moisture buildup and exposure to liquids and food.
As a general rule, grout looks best when cleaned twice a year. The first cleaning usually occurs in the spring, after visitors no longer track slushy debris into your building. The second time we usually clean is in the fall, when we remove the oils and dirt tracked in from outside. However, if the area receives less traffic, you may only need a full cleaning once yearly.
Pro tip: to make full use of grout cleaning, be sure to schedule a carpet cleaning at the same time. Having both done at once will help to prevent debris and dirt from being tracked from the carpet into your clean grout.
Professionally-cleaned grout tile floors sparkle and reflect positively on your business. Contact our dedicated team at Camberg Commercial Cleaning today!